Transformation of the Day: Kyra lost 82 pounds. After many years of failed diets, medications, and exercise programs, she learned about a relatively new weight loss procedure, Endoscopic Sleeve Gastroplasty (ESG). By working with a nutritionist to determine the right mix of carbs, fat, and protein for her body and consistently working out, she has achieved great results. 
I have lost 75lbs with a new weight loss procedure called Endoscopic Sleeve Gastroplasty (ESG). I have never regretted my decision in the six months since having it.
I have been overweight since about 5th grade, when puberty began. Once I reached adulthood, I've always tried to eat nutritious foods, but dieting typically failed because of uncontrolled hunger. Even after eating healthy foods (lean proteins, complex carbs/veggies, and healthy fats) in the appropriate portion sizes, I would be hungry about an hour later. It was frustrating! 
After many diets, medications, and exercise programs, I decided to look into weight loss surgery six years ago. However, none of the available surgeries (Lap-Band, VSG, or Gastric Bypass) appealed to me. I did not want the maintenance of the Lap-Band or the invasiveness (stomach removal) of VSG or Bypass. Then, while researching non-surgical weight loss options, I found Endoscopic Sleeve Gastroplasty.
This permanent procedure (not considered surgery by medical boards) has been around since 2012 but is still somewhat unknown by the public and many medical professionals. Medical studies for five years have recently been published this year (2021). Sutures are placed in the stomach through the mouth by an endoscopist to shape the stomach into a sleeve. ESG reduces the stomach in length and volume, although there is no cutting/removing of the organ. It is performed as an outpatient procedure, and most doctors only require a few days of a liquid pre-op diet. Recovery time is typically less than five days. 
It sounded like exactly what I needed! After another month of searching for skilled doctors, I found the best physician with the most experience and scheduled my surgery. This procedure helped me control my hunger by giving a lasting feeling of satiety with appropriate portion sizes. There have been very minimal side effects/negative drawbacks. Overall, the recovery and transition have been extremely smooth. ESG gave me the reassurance and confidence I needed to start living a healthier lifestyle. My journey is rooted in this quote by Dr. Maya Angelou, "Nothing will work unless YOU DO!"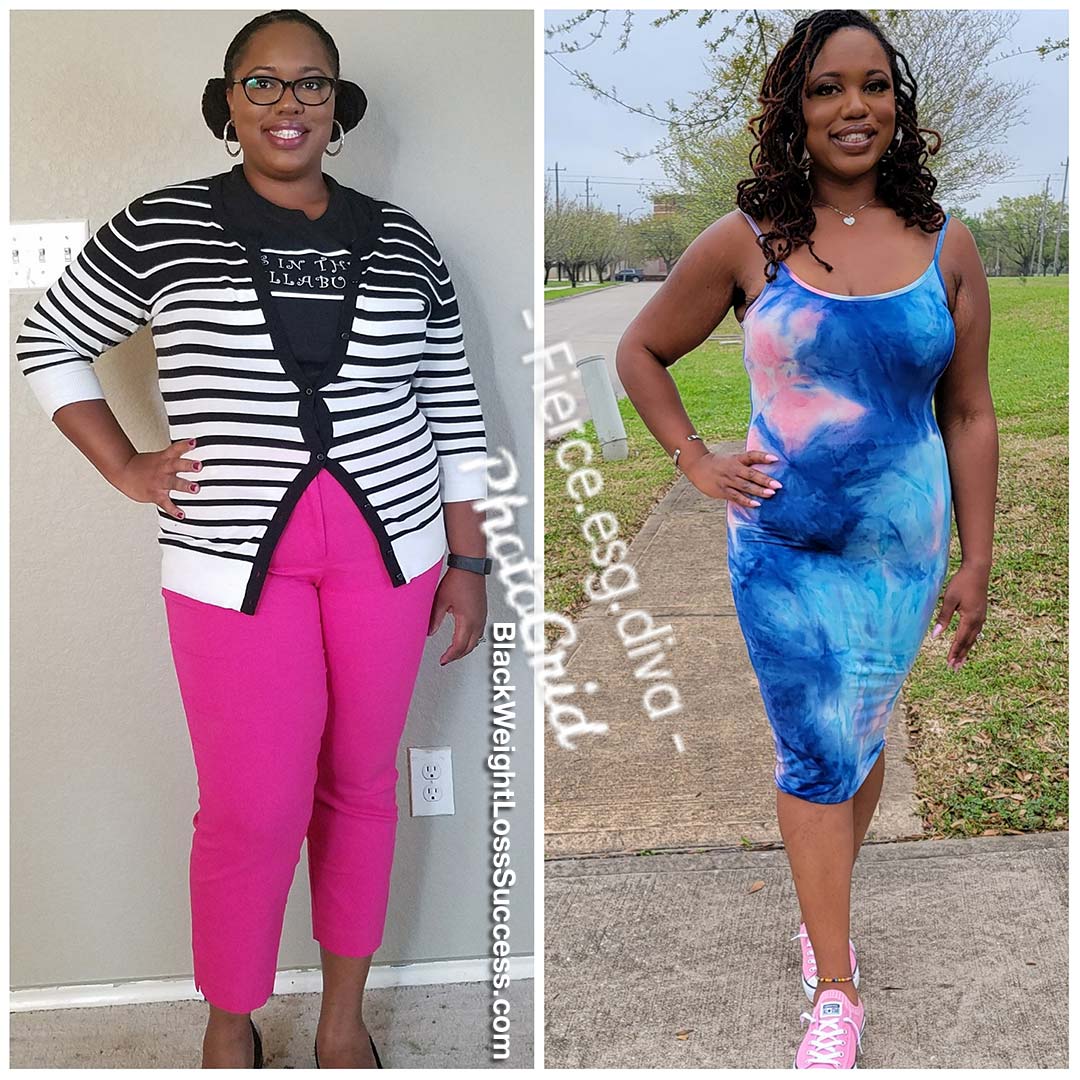 When did you start your journey?
August 1 is when I started trying to "do better." I had Endoscopic Sleeve Gastroplasty on August 19, 2020. After discovering the procedure and not finding many people who had it, I decided to make an Instagram page and YouTube channel to chronicle my journey and provide information for those interested. The transformation has taken six months and is still ongoing.
What was your motivation? What inspired you to keep going, even when you wanted to give up?
At first, I was motivated by wanting to be healthier as I reached my 40s for myself, my husband, and my children. After being overweight my entire adult life, I wanted to experience life in a different body. I also began to experience knee and lower back pain and found it difficult to walk long distances or keep up with my elementary-aged children.
To keep inspired, I surround myself with other positive people who are striving for greatness in life in general. I also prioritize progress over perfection, and I don't dwell on setbacks. I can only fail if I give up. Finally, making my journey with ESG public on Instagram and Youtube has helped with accountability and support. 
How did you change your eating habits?
My dietician suggested a ratio of 40% carbs, 35% fat, and 35% protein after the initial 8-week transition to food after my procedure. For me, that comes out to 120 grams of carbs, 40 grams of fat, and 90 grams of protein. 
Overall, most carbs I eat are complex and come from whole grains and vegetables, although I do not avoid or omit any food. I also eat lean meats and fats from healthy sources. I have been eating this way since October 2020 without any issue and with minimal stalls/plateaus. No food group or food is off-limits, but instead, I practice mindful eating when it comes to nutrition. It fits into the plan, and I want it; I can eat it! I track my food intake every day as well.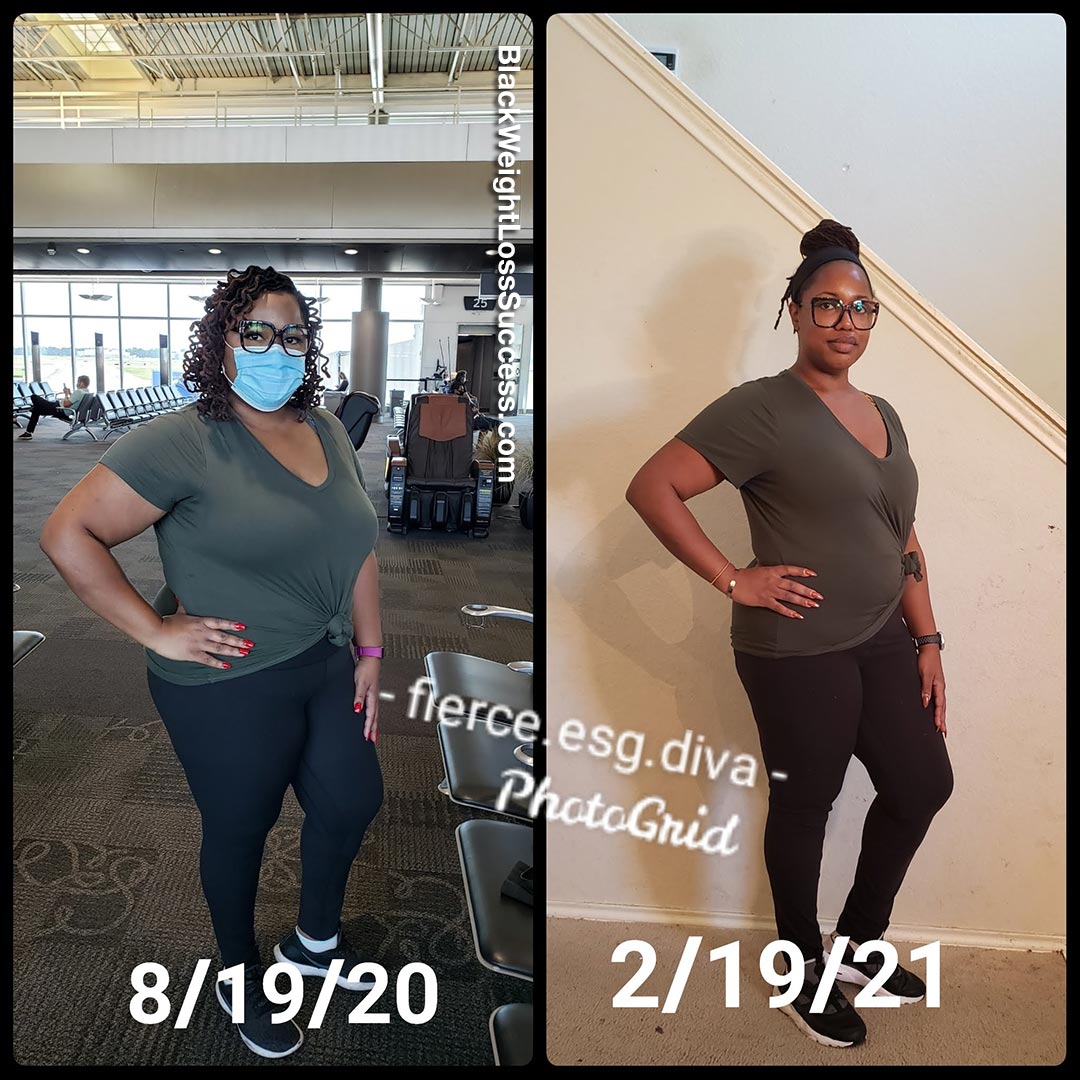 What did your workout routine consist of? How often did you work out?
First of all, I do not enjoy working out and have to push myself to do it every.single.time! I aim to work out 4-5 days a week with a mix of cardio and strength training. I began by just walking 2 miles a few times a week and then slowly adding squats and weights. As my fitness levels and stamina improved, I added jogging, step aerobics, weighted squats, and barbell workouts. I try not to rest two days in a row because, again, I don't particularly like working out and feel it would be too easy to slip back into old habits if I miss more than two days straight. 
What was your starting weight? What is your current weight?
Starting Weight: 276 pounds
Procedure/Surgery Weight: 269 pounds
Current weight: 193.8 pounds
What is your height?
5'5″
What is the biggest lesson you've learned so far?
I've learned two big lessons so far. 
It is better to aim for discipline/consistency than a scale or size number because discipline emerges when motivation wanes. 
A complacent mindset will harm any goal. Becoming "good" can be the enemy that stops us from becoming "great." 
What advice do you have for women who want to lose weight?
Choose your own path to weight loss. Do the research to determine what will work well for you, your lifestyle, and your goals and don't be afraid to modify. Since weight loss is not "one size fits all," it is up to us to determine our paths without the stigmas of anyone else's judgment or opinions. 
Know your strengths and weakness and plan to capitalize on the strengths and to prevent/avoid or overcome the weaknesses when they occur. The journey is mental.
Instagram: @Fierce.ESG.Diva